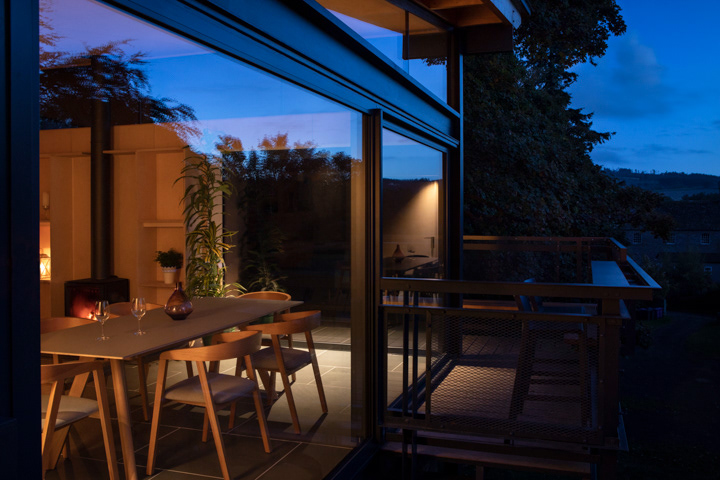 Rescobie Pavilion
Kris Grant Architect
Rescobie Pavilion is a steel framed garden building, perched above a stone base, in the grounds of a nineteenth century schoolhouse in rural Angus, Scotland.

It sits comfortably in the landscape, an exposed site with easterly views over Rescobie Loch and westerly views over the client's beautiful but steeply sloping garden.  The clients wanted a new building to maximise their enjoyment of the garden, with walls that slide open to allow meals to be enjoyed in the sunshine whilst sheltered from the wind.

Steel was chosen as the pavilion's primary structure for its ability to cantilever, allowing an expressive frame with a large extent of glazing to fill the space with light and provide the experience of being outside even when inside. The steel was galvanised and then finished with an epoxy coating for long-term protection in this exposed environment.

A broad, wrap-around balcony is fixed to the main structure and provides outdoor socialising space suspended above the garden, amongst the tree branches. It is also made of galvanised steel with the balustrade detailed to take full advantage of the thinness of steel and fine mesh panels to maximise transparency between the building and the garden.
The Dundee Institute of Architects gave the pavilion their Supreme Award for the best new building in the region of 2022, describing it as "an exquisite celebration in detailing" and "a beautifully considered design for enjoying life".
Photographs © Dapple Photography